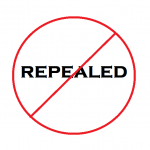 There's a new attempt to un-do the Affordable Care Act (ACA) going on in D.C. It's disguised as an attempt to reform the law, but make no mistake, this proposed change will take us backward in time.
This time proponents say it should be up to the states to decide which health benefits should be offered. They want to allow insurers to charge older plan members (that's people somewhere around age 50) 5-7 times more than they charge younger members. They suggest High Risk pools for folks with pre-existing conditions. (Did you know that  a pre-existing condition could be something as seemingly simple as eczema?)
What's the matter with letting states decide such matters?
The problem with all these ideas is that once again care will not be available to people who need it. It's a move right back to where we were before the ACA was passed.
What benefits are likely to get dumped? Maternity care and mental health benefits are right up there on the list. Both can be very expensive. Both need to have a large pool of premium-payers in order for insurance companies to offer them. When they are optional benefits, insurers only offer them on their most expensive policies (we saw that before the ACA in California). Far too many people who need such care cannot afford to purchase the policies that offer coverage for it.
Not intending enter the controversy over abortion or to say anything about the pros and cons of abortion accessibility, I must note that when maternity care is not affordable, more women find their options for continuing a pregnancy limited. The abortion rate is more likely to go up.
We know that lack of mental health care raises the risk of homelessness, violence, and the use of emergency room care for conditions that could have been prevented with stable housing, food, and employment. Cutting out that benefit would again take us backward in time.
We've also tried High Risk pools in the past. The ones we had pre-ACA were limited in the number of people who could be covered, had annual limits on the amount of care they would pay, and were much more expensive than regular policies. A return to that will not help reduce the cost of care or access to care for people with pre-existing conditions.
Much of what the GOP is now proposing is simply a return to what we had before the ACA was passed. It's being presented as a way to fix Obamacare. Don't be fooled. It won't fix the problems with the ACA / Obamacare. It will take out basic protections and ultimately make health insurance more expensive. It will also result in much larger numbers of uninsured people.
Contact your representatives in Congress.
Let them know that the Affordable Care Act does not need to be reversed or repealed. It needs to be fixed, but not by going back to the way things were before March 2010 when the ACA was passed. And don't take your eyes off what's going on in D.C. They think we might not notice what's happening if they just change a few things here or there and call it returning control to state and local governments.
A Benefit in the National Interest
Health care and health insurance are topics of national interest, governed at the national level for the vast majority of Americans through Medicare, the VA, Medicaid, and employer-based insurance programs. Let's not let anyone take protection away from the small number of other of Americans who have so recently received the benefits of comprehensive coverage. Good health and access to care are truly fundamental to making America a great place to live, work, and raise our families.